An Evening with Cedric and Friends – October 10
Patti LaBelle to headline Cedric the Entertainer and Friends! fundraiser to benefit women's pavilion at SSM Health St. Mary's Hospital

ST. LOUIS (Aug. 6, 2015) —SSM Health St. Mary's Hospital Foundation announced details of their upcoming Cedric the Entertainer and Friends! annual fundraising gala to be held Saturday, Oct. 10 at the Peabody Opera House. The event will feature performances by Cedric "The Entertainer" (also known as Cedric Kyles) and legendary musical artist Patti LaBelle for an evening of entertainment. The event is a celebration of women's health services offered at the upcoming Rosetta Boyce Kyles Women's Pavilion at SSM Health St. Mary's Hospital, to be named after Cedric's mother.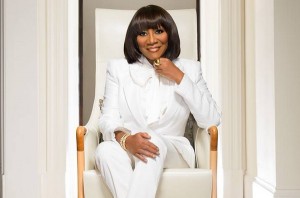 Actress and singer Patti LaBelle will headline Cedric the Entertainer and Friends on Saturday, October 10 at the Peabody Opera House.
Actress and two-time Grammy Award-winning singer, Patti LaBelle is widely regarded as the queen of rock & soul music. The Philadelphia-born entertainer captured her first hit in 1962, as lead singer of The BlueBelles and went on to receive worldwide acclaim with the trailblazing and genre bending trio, Labelle. A solo artist since the 1970s, Ms. Labelle has created timeless songs, including "Lady Marmalade," "When You Talk About Love," and "New Attitude" that have helped cement her place as a music icon and garnered her numerous honors, including two GRAMMY Awards, American Music Awards, NAACP Image Awards, New York Times bestsellers and more.
"I am excited to announce Patti LaBelle as the headlining music performer at this year's annual fundraising gala for SSM Health St. Mary's Hospital!" said Cedric. "Not only is she a legend in her own time, Patti is an incomparable force, exuding grace, style, elegance and charisma. And even more, in addition to being a world-class artist and mother of five, Patti is just as well known for her philanthropy and willingness to share her blessings and gifts with the world. It's an honor to have her join us for what will certainly be a great night!"
The "women's pavilion" at St. Mary's Hospital consists of a team of doctors, nurses and caregivers who offer a full spectrum of women's services and treat women from adolescence through post-menopause. Funding support from the women's pavilion will be used for health education, programmatic support and resources developed for women of all ages and of diverse backgrounds.
David and Thelma Steward of World Wide Technology, Inc. return as co-chairs in support of the women's health initiative. "World Wide Technology is proud to be a sponsor of the gala to benefit the women's pavilion in memory of Cedric's mother, which will be an invaluable health resource for women in our community and beyond," said Thelma Steward.
Tickets on sale Friday, Aug. 7 at noon and may be purchased at Ticketmaster.com or 1-800-745-3000.
For more information regarding the event, please visit CedricandFriends.org.